As September begins so does the season of newness. We want to thank everyone for the continued support and prayers as we adjust to the new rhythms of life and ministry opportunities. We are all very excited to see what God has for us in the 2018-2019 academic year at the
Alliance Academy International
(AAI)
.
Luke and Levi making new friends
Levi has started his 8
th
grade year with a handful of new classmates and teachers. He looks forward to being involved with sports, music, and drama.
Luke has begun 7
th
grade and has joined Levi in the band. He loves the new freedoms of middle school and especially likes his science class.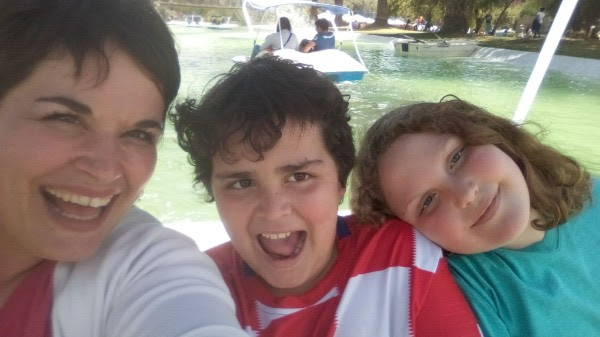 Enjoying the paddleboats at a park close to home
Aaron (5
th
grade) is enjoying having Jennifer Kendrick, our neighbor, friend, and the only other Reach Beyond missionary at AAI, as his homeroom teacher.
Evangeline (3
rd
grade) is likewise thrilled to have our dear friend, Patrick Pinho, for her teacher. It is such a blessing to have meaningful friendships with our kids' teachers. We deeply value the input of other godly adults into our kids' lives.
Last year, Beth recorded lead vocals for a worship song written by a church friend. This fall, Beth joined the filming of the music video that our church,
La Viña
, produced to accompany the song. La Viña aims to continue sharing musical resources with other churches throughout Latin America, particularly in the Vineyard Movement of which it is a part.
Dave is really looking forward to teaching his favorite classes ("World Religions and Cults" and "Heaven and Hell: Visions of Sin and Grace") for a whole year, rather than just a semester. He has been enjoying all the new students, mostly Juniors, in his classroom.
We are so very grateful for the newest monthly supporters of our work with Reach Beyond. We continue to look to add to the monthly support team to make up the current shortfall. If you are able and willing, please visit the following site to join the team today!